Best Surf Hats – Complete Guide for 2022
XtremeSport4u is reader-supported. If you buy through links on this page we may earn a commission, at no extra cost to you.  As an Amazon Associate we earn from qualifying purchases.
The idea of wearing a hat while surfing may seem laughable to many people. But when you consider that the scorching hot sun has no regard for your skin, especially your face that isn't covered with your clothing, then a surf hat might start appealing to you. The problem most people have with wearing hats for surfing is how to secure the hats. Well, this won't be a problem with dedicated 'surf hats'.
You probably know that the radiation from the sun isn't your friend. They can cause sun burns or in some cases, skin cancer. Too much radiation isn't also good for your eyes as it can cause a range of vision problems in the short or long term. Wearing shades may help but it isn't practical for surfing. Your best bet for protection from the sun while surfing remains a surf hat.
However, not all surf hats in the market are worthy of being called surf hats. In fact, some expensive surf hats are just useless. This is why I have scoured the internet for the best because you deserve the best. Here is a list of some of the best, yet cost-effective surf hats in the outdoor gear market.
Reviews & Buying Guide Contents
The 7 Best Surf Hats for 2022
Dakine Indo Surf Hat
Our Top Pick
Dakine Indo Surf Hat, Griffin, Large/X-Large
21 new from $39.95
Free shipping
as of May 17, 2022 5:25 pm
When it comes to your gears for outdoor activities, you can always trust this brand, Dakine. The Dakine Indo surf hat is one very nice hat you can always bank on. It comes with a chinstrap that helps ensure the hat remains in place. Should the strap even break free, you need not worry as this hat floats.
This hat is quick-drying and has a low water-retaining capacity so you need not worry about your hat being wet all the time. Even when wet, the bill stays up ensuring that it is still able to shield your face from the sun. It also has a sort of neck gaiter that ensures your neck is also protected from the sun.
Thi Dakine hat comes with a Velcro compartment that allows users who wouldn't like to use the neck protector flap. It has an excellent UV protection rating ensuring that users get optimum protection from the rays of the sun.
Material: 100% nylon (black) / 100% polyester (prints)
Sun protection rating: UPF 50+
Durable
Excellent UV rating
Has a detachable neck protector flap
Quick to dry
Other Buying Options:
Everyday California 'Floating Waterproof Snapback' Surf Hat
Everyday California 'Floating Waterproof Snapback' Black Surf Hat
as of May 17, 2022 5:25 pm
The surf hat by Everyday California appears like your regular baseball cap but I assure you it's not just that, it comes with nice features that make it qualify as a top-notch surf hat. As you would expect from a standard surf hat, it has an excellent UV protection rating.
This hat is made of waterproof material, ensuring that even in water, your hair remains dry. And also, it floats- so need not worry about losing this hat in the water. It will always return to the water surface where you can always pick them back up.
One thing I like about this surf hat is its versatility, it can be worn like your regular hat. If you need a fancy hat as one of your outdoor gear, then the Everyday California surf hat is just for you. And of course, it's durable.
Material: nylon
Sun protection rating: UPF 50+
Versatile
Excellent UV rating
Durability yet maintaining aesthetics
Melin A-Game Hydro Cap
melin Hydro A-Game - Heather Charcoal
6 new from $61.42
Free shipping
as of May 17, 2022 5:25 pm
The surf hat by Melin is another nice headgear for surfers. The hat is of great quality and comfortable. The rear is perforated for ventilation. The hat is made of lightweight durable material that ensures you get optimum comfort when wearing it.
Like other top-quality surf hats, it is moisture-wicking, that is it does not absorb water and can float on water. This hat has a concealed pocket, what you decide to keep in this pocket is up to you.
The hat fits perfectly even for those with large skulls and not just staying on top of it. You just have to go for your size. Unlike most other hats, it leaves no line on your forehead.
Material: 80% polyester, 20% spandex
Sun protection rating: UPF 50+
Durable
Lightweight
Aesthetically pleasing
Other Buying Options:
Dakine Surf Cap
Dakine Surf Cap, Black
15 new from $27.95
Free shipping
as of May 17, 2022 5:25 pm
Just like other products from Dakine, this surf hat is a must-get, especially for those who are yet to use any headgear in water before. It is designed like a baseball cap, but as you'd expect it has some nice features.
The cap comes with a neck strap that helps to keep the hat on even when underwater. The straps are perforated at the sides of the ear region which helps to maintain ventilation and also makes it easier to hear.
One of the major reasons why we use surf hats is for sun protection, this surf cap has an excellent UV protection rating. Surfing at midday when the sun is directly ahead, provided you are wearing the Dakine surf cap, you are protected.
Material: 100% nylon (black) / 100% polyester (grey)
Sun protection rating: UPF 50+
Has a neck strap
Lightweight
Excellent UV rating
No sun protection for the neck
FCS Essential Surf Bucket Hat
FCS Essential Bucket Surf Hat - Black - L
5 new from $34.00

as of May 17, 2022 5:25 pm
In the world of surfing and other water sports, FCS has made a name for itself amongst the few brands known for delivering quality. This is the story of the FCS surf hat.
This hat fits into heads of different sizes perfectly, provided you get the right size for your head. It is lightweight, even when it's wet, and also doesn't lose its shape.
It comes with a nice chin strap that helps to keep it in place when in use. Thanks to its ability to float in water, in situations where you lose it when surfing, it quickly floats, where you can easily retrieve your hat on the water surface.
In need of a hat that acts as a shade to protect your face from sun rays, then this surf hat will be a nice fit for you. It has an all-around brim that can serve as a sort of an umbrella-like shield for you when surfing under a hot sun.
Material: 100% nylon
Sun protection rating: UPF 50+
Has a 360-degree brim
Lightweight even when wet
Excellent Sun protection rating
Chin straps are adjustable
Other Buying Options:
O'Neill Sport Sport Cap
O'Neill Sport 2mm Sport Cap, Black, X-Large
3 new from $39.95
Free shipping
as of May 17, 2022 5:25 pm
The O'Neill Surf cap doesn't only act as a shield for your face against sun rays, it also provides for extra warmth when engaging in any of the water sports. It is lightweight and made from water-resistant material and dries easily ensuring you warmth alongside its shielding effect from the sun.
This hat is specifically designed after much research to ensure that performance of surfers, swimmers, divers, etc is maintained at an optimal level even during harsh weather conditions. The cap has an extended flap that can serve as a shield for your neck. Also, it covers your ears, preventing water from entering your ears.
The O'Neill cap comes with a chin strap to ensure that the hat remains on your head when surfing. This chin strap can be adjusted to ensure the cap fits in well. The seams and studying are well done, making sure the cap has a long life span.
Material: neoprene rubber
Sun protection rating: UPF 50+
Lightweight
Adjustable chin strap
Durable
The strap may not be long enough.
Coolibar Eisbach Surf Hat
Coolibar UPF 50+ Unisex Eisbach Surf Hat - Sun Protective (Medium/Large- White)
as of May 17, 2022 5:25 pm
In need of a surf cap that guarantees you optimum protection from the sun, the Coolibar surf hat might just be what you need. The hat has an excellent UV protection rating.
Attached to this hat is a drape that extends to the neck region ensuring that your neck is also shielded from the sun. It also covers the ears to limit the amount of water that enters the ears. When not in the sun, the neck flap can be turned in.
The material used in the construction of this hat is resistant to saltwater and even chemical chlorine put in pools, ensuring that you can use this surf hat for a long time.
The hat also has laser-cut filters at the sides that allow for needed ventilation. The hat itself appears simple and can it's unisex as it fits well on either gender.
Material: 100% polyester
Sun protection rating: UPF 50+
Saltwater and Chlorine resistant
Lightweight
Excellent Sun protection rating
Has a neck protection flap
Other Buying Options: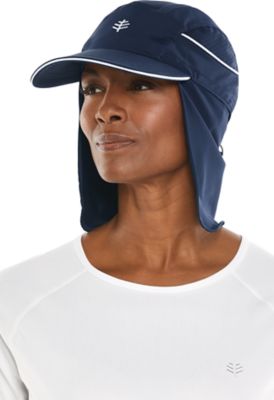 Best Surf Hats – The Guide 
What is a Surf Hat?
Surf hats, like your regular hats and caps, are headgears. These gears called surf hats or caps are more or less a sunscreen. They act by serving as a shield to protect your skin from the sun- mostly your face and eyes. These gears also provide you warmth when surfing, swimming, diving, etc in the cold.
Why is a Surf Hat the Best Against the Sun?
As you would see later in this article, there are other ways by which you can protect your skin when surfing on a hot sunny day. However, surf hats are the best protection you can get against the sun.
Surf hats are the coolest- they are fancy, and unlike sunscreens that you need to keep applying over and over again. Once you put on your surf hat, you are protected from radiation for the amount of time they are on.
In the past, surfers complained about losing their surf hats now and then. This is no longer the case, as many surf hats now have chin straps that help keep your hats in place. Also, there are lots of hats that float when lost in the water. You need not worry about having to replace your hats often.
Also, there are lots of surf hats that have a sort of neck gaiter. This ensures that your neck is not left out. As your face is being protected, your neck gets protection. And for individuals that feel these neck flaps aren't cool. Some of these hats have means by which they can be kept away, some have Velcro compartments while some could just be tucked in.
What Makes a Good Surf Hat?
With the knowledge of what a surf hat is, and what it is used for, the answer to this should already appear simple to you. However, not all surf hats are good enough. Some are just fancy and wouldn't get the job done. There are even expensive fancy hats that are more or less useless. Before you can call a surf hat a good one, there are certain features that you need to look out for.
The first is its ability to guarantee sun protection on a hot sunny day. Also, it should also be able to provide warmth on cold days. A good hat should stay longer on your head. Not the one that falls off easily that will require you to keep picking them from the water and having to wear it now and then.
I think you should also choose a stylish one. I'm sure you'd like to have a fancy surf hat, yet a quality one.
What are Some Alternatives to Surf Hats
Even with all the lots of benefits that come with the use of surf hats, there are still some individuals that still choose to go surfing without one, even when surfing at midday.
For people with dark skin, surfing under the sun with no skin protection might not be that harmful. Studies have shown that people with dark skin are less likely to get skin cancer, thanks to the larger production of melanin by their skin which serves as protection.
This is not the case for other skin types. Hence, the need to protect the skin especially when surfing on a hot sunny day. Here are some other means by which you can protect your skin if you choose not to use the best form of protection- surf hats.
Surf at dawn, before the sun comes up, or at dusk when the sun is already going down. This way your skin is exposed to minimal ultraviolet rays.
You could wear a surf helmet. This too should give you protection. However, hats provide you with a better shade. More so, with helmets, your neck is left unprotected.
Use of sunscreen. Reports have shown that most people fail to apply up to half of the recommended amount of sunscreen. This is to remind you that you'd need to apply lots of sunscreen on your skin when you choose to use them as your shield against UV rays.
Surf at night. At night, the sun is down- meaning you are protected. However, surging at night might not be cool. Visibility is impaired.
You could also decide to wear a nylon balaclava. This too gives less protection when compared to surf hats.
Final Thoughts
Surfing should be done at any time of the day without having to worry about your skin getting burnt by the sun, or worse getting melanomas. What you need to take off this worry is a surf hat. This article is a guide to help you make the right choice when deciding on getting yourself a nice and quality surf hat.