BASEjumping challenges you to perform at your best, baseclimb pushes you that little bit further… in the video below Dean Potter, a man we have profiled before, proves this point:
B.A.S.E Climbing from godkonstantin on Vimeo.
BASEjumpers are dedicated athletes as the extreme sport requires a minimum of 200 skydives, disciplined judgement, fine motor skills, expert canopy control and mental and physical acuity. For baseclimbing you need to add rock climbing and mountaineering skills.
The price of failure in both extremes can be high, but the payoff for success is commensurate with the risk. The level of physical and mental control required to jump well requires an unshakeable self-confidence.
BASEClimb began in 1991 when doctor and mountaineer Glenn Singleman teamed up with country butcher and BASEjumper, Nic Feteris to climb and BASEjump the highest cliff in the world – the Great Trango Tower in Pakistan. Some time later they discovered that it wasn't the highest cliff after all and so it was only a matter of time before a team was put together to challenge Mt Meru in the Indian Himalaya. Singleman and his wife, Heather, climbed and then BASEjumped in wingsuits from a ledge at 6604 metres. It was a new world record, plus a world first for a woman and another world first for a husband and wife team.
'No Ceiling – the BASECLIMBÂ  3 Story' Documentary will be available on DVD in September 2010.
You might remember that we recently profiled Russian extreme sports  dynamo Valery Rozov wingsuit flying into the crater of a live volcano. Needless to say he, too, baseclimbs, but this is not surprising as he has an impressive climbing and flying background.
He began mountain climbing in 1982 at the age of 18 and has climbed continuously since then. Between 1994 and 1996, he took on the "Seven peaks" challenge. He has also participated in many climbing competitions. His flying record is equally impressive. He first jumped with a parachute in 1993 and has subsequently made more than 7000 jumps. He has participated in and has won many awards on a national and international level. For Rozov it was only a matter of time before he took a closer look at more extreme sports… and BASEjumping and wingsuit flying were right up his street.
He has done over 550 BASE jumps and since 1998 has won various awards. He is also one of the best BASE climbers in the world climbing the most extreme summits he can find. Once there he skis off the top using a wing- suit or just a parachute. He has, to date, baseclimbed in Venezuela, Norway, Switzerland, Mexico, France, Italy, Malaysia, Polar Canada, Kamchatka, New Zealand, Pakistan, Chile, Argentina, Greenland … the list is endless.
He is also the first person to have baseclimbed  Cerro Torro in Patagonia. Although he reached this notoriously difficult summit, he jumped from just below the traverse on the Compressor route and was in flight for a minute and twenty seconds.
In that short time he covered an altitude difference of 1450 meters. In the last 200 meters he got caught in a huge wind gust that took him up and down, and he couldn't land for 15 minutes, but that seemed to be the only complication to the jump.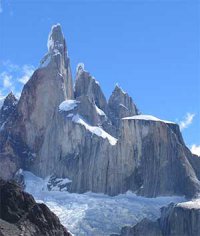 Cerro Torro is one of the most technically difficult mountains in the world to climb.
Dean Potter had attempted to jump from this summit 2 years before Rozov. He successfully reached it, had a parachute, no wingsuit, and did not jump. The reasons are not clear, but it shows the professionalism of these supreme sportsmen – they don't take unnecessary risks.
Rozov's jump was no easier as the weather had been appalling, but just as they decided to abandon the jump and descend the traditional way, a window in the weather opened and he took full advantage of it.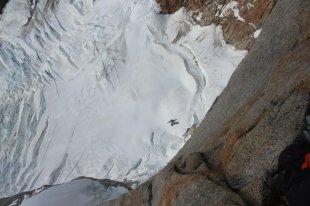 Baseclimbing is still in its infancy as extreme sports go, but there is no doubt that more and more peaks will be conquered by this sport.